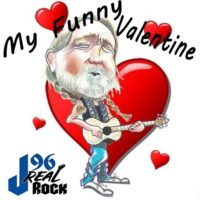 Nancy Bares Marita
I married the "Man Upstairs." It started with me leaving him a note on his door to let him know that if my music was too loud, he should let me know. It was a reverse psychology tactic because he played his 80's ROCK music SO LOUD in the mornings before work. Well, it worked, but not in the way I thought it would. I fell in love with him, we got married and now we both listen to our music loud. Mitch Marita
The Winning story for "My Funny Valentine.
Thanks to the Hotel Chequamegan,2nd Street Bistro, Country Buds Flower Shop, California Nails, Beniot Cheese House, Main Street Massage, Home Expressions, Harbor House Sweets and Super H Foods for the awesome prize package and thanks to everyone that participated.
We love our listeners…Happy Valentines Day!