MCKENZIE RAE (Middays)
 McKenzie hit the ground running in a major market with her very first job over thirty years ago. Writing, producing, programming, and being a top rated personality, she's done it all.   McKenzie's a big fan of the outdoors.  Exercising, walking her dogs, playing softball, and spending time with her daughter.  She likes all kinds of music but has a passion mostly for classic rock.  Led Zeppelin, Rush, Eric Clapton, and Van Halen are what she grew up with so they bring back fond memories.

DAN MITCHELL 

(Afternoon Drive)
Dan has been in radio for almost 40 years.   His love of music began in the 60's when he used to hear the latest hits on the Jukebox at his father's Pool Hall.  He was hooked!  Dan decided in 7th grade that he wanted to be a disc jockey and never let go of that dream.  He started his career in his hometown of Denver in the summer of 1980 and spent the next 36 years on the air in the same city he grew up in.  He's been married to his lovely wife Kathleen since January of 81.  They have a son and a daughter and two granddaughters!  Dan is an avid basketball player, movie watcher and classic car lover.  He's thrilled to still be "in the air" and rockin'!

JAY PHILPOTT (Nights) 
Jay lives by his love of music and radio and has truly lived the "town to town, up and down the dial" life of a radio/gypsy/rocker.  He got his start in radio at the age of 18 and has never looked back.  Jay has worked in many genres of music and scored a lot of backstage moments and interviews with some of the greatest classic rockers ever.  Van Halen, Don Henley, Pete Townsend, Rush, Robert Plant, Aerosmith, and many more.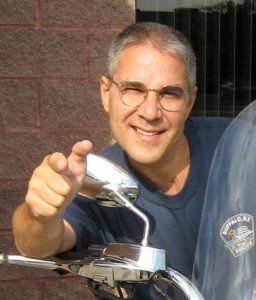 CARL RUSSO (Overnights) 
Carl grew up with plenty of street & strip drag racing, stock car racing, and playing musical instruments and having a good time.  He would then apply that energy into rock & roll and a career in radio. A major market radio personality, TV personality, and radio station owner, he did it all.  His sense of civic duty was also a priority for Carl wherever he went. He served as a fireman in many cities where he's worked.